AusBean Electrostatic Sprayer for Disinfection 
We offer electrostatic disinfectant spraying and fogging as an added precaution to help the fight against COVID-19. We use a hospital grade disinfectant that kills HIV/AIDS, MRSA, Influenza, in addition to the COVID-19 virus.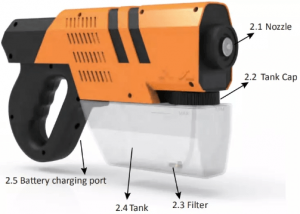 Electrostatic spray surface cleaning is the process of spraying an electrostatically charged mist onto surfaces and objects.
Electrostatic spray uses a specialized solution that is combined with air and atomized by an electrode inside the tip of the sprayer.
The spray contains positively charged particles that are able to aggressively attach itself to surfaces and objects and envelopes itself around these objects.
Because the particles in the spray are positively charged, they cling to and coat any surface they're aimed at, even if they're awkwardly shaped or in a hard to reach place.
The closer the droplets get to their target, the stronger the force of attraction so it's impossible to miss a spot.
Surfaces that are already covered will repel the spray, making the method extremely efficient.
Hospital Grade sanitizer.
Doesn't harm electronics.
Dries quickly so you are able to return to the area within 15 minutes.
The main features and benefits of electrostatic spray disinfection include:
Reduces the time it takes to cover and disinfect all surfaces and hard-to-reach places by 50% compared to conventional methods
Improves infection control and the spread of viruses such as COVID, influenza, MRSA, HIV and many others
Applies chemicals in a more efficient, controlled manner, eliminating the dangers of overuse
Prevents costly financial burdens associated with contagious healthcare infections
Electrostatic Sprayer Model: G-100
Electrostatic spraying Vs Fogging
 Misters and fogging systems deliver very small droplets that passively deposit on surfaces based on the direction of spray and the effect of gravity, which may result in uneven coverage.
 Spray/wipe methods are also time consuming, labour intensive and provide the least consistent coverage.
 Electrostatic delivers charged droplets that are actively attracted to surfaces, including thwrap-around disinfection coverage.
e back sides and crevices of surfaces regardless of the direction of spray for complete
Perfect for openplan offices and other public spaces
Provides the hygiene solutions you need at the heart of your office environment
Show your employees that you care about their well-being
A sleek design blending in perfectly in the modern office landscape
Works with both Tork Image Design™ and Elevation Line dispensers
Suitable for both manual and sensor dispensers
How can a hygiene stand from Tork improve your workplace
An open plan office means sitting closer to colleagues or even sharing desks. More sharing means more people worry about office hygiene.* The solution? Move hygiene solutions such as hand sanitisers and facial tissues in the office environment with the Tork Hygiene Stand.
Attentions:
WARNING:It is the operator's responsibility to read and understand the cautions and warnings in this manual before attempting to operate this machine.
IMPORTANT:The Electrostatic Sprayer has been designed and engineered to be very safe during normal operation.As with all cordless products certain safety precautions should be taken.
Understand these safety precautions before operating machine.Failure to properly follow these precautions may lead to a fire,explosion,or electrostatic shock hazard.
WARNING:When using electric appliances,basic precautions should always be followed,including the following:
1、Read all the instructions before using the appliance.
2、To reduce the risk of injury,close supervision is necessary when an appliance is used near children.3、Do not contact moving parts.
4、Only use attachments recommended or sold by the manufacturer.5、To reduce the risk of electrical shock,do not put electrode in water or other liquid.Do not place or store appliance where it can fall or be pulled into a tub or sink.
6.Use only the charger supplied by the manufacturer to recharge. re use01
PRODUCTS COMPONENTS: ITEM CODE2.1 Nozzle2.2 Tank Cap
CAUTION:The battery used in this device may present a risk of fire or
chemical burn if mistreated.Do not disassemble,store in extreme heat or cold. Keep away from children label Do not disassemble Do not dispose of in fire.
Fire or injury may result from tampering prior to disposal,protect exposed terminals with heavy insulating tape to prevent shorting
I down WARNING:Fire hazard.Do not store or carry battery so that metal objects can contact exposed battery terminals.
CAUTION:Do not remove the battery pack from the machine. Do not recharge the battery immediately after operated. The battery can explode in a fire.
 IMPORTANT SAFTERTY INSTRUCTIONS FOR BATTERY CHARGER
rayer that Save these instructions This manual contains important safety instructions sons.for battery chargers.Before using charger,read all instructions and cautionary markings on charger.
WARNING:Shock hazard.Do not allow any liquid to get inside charger. CAUTION:Burn hazard.To reduce the risk of injury,charge only this machine Other types of batteries may burst causing personal injury and damage.