When you start a new project, you may use the google trends to research the keywords and find whether the markets require the products and follow the trends ;
Now, no matter how we explain the market and people always keep their minds and we just use the Google and Google know everything.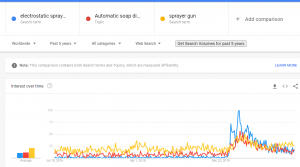 https://trends.google.com/
You also can search the air purifier, people stay at the home and need to keep the air fresh and avoid contacting anyone and geting the inflection of covid-19.
From the google trends, the USA clients who prefer choosing the electrostatic sprayer, the brand of Victory, Emist, Ryobi etc.  The advantage of electrostatic sprayer and you also can visit our blog 
7. 5 Famous Brands Handheld Electrostatic Sprayers

Victory electrostatic sprayer
https://www.amazon.com/stores/Victory+Innovations/page/45DBAC7B-4917-4847-B8CC-0B36CE34886E?ref_=ast_bln
The price : USD359.00
About this item
Patent-pending electrostatic charge penetrates chemicals providing a thin, even spray pattern on all surfaces with no wiping necessary
Cordless convenience allows for effortless movement from room to room. Weighs only 5.9 lbs. with a full tank
Double-charged particles envelop all conductive surfaces – shadowed, vertical, and underneath
Removable Easy-Fill HDPE tank holds 33.8 Oz of chemical, allowing you to coat up to 2,800 square feet on a single tank of fluid
Victory 16.8V Lithium-Ion battery allows you to run between 20-80 tanks on a single charge
For the hand sanitizer, the brand of Purell which is the famous and the company have different model automatic han soap dispenser,
Protexus Cordless Electrostatic Sprayer
The price : USD649.00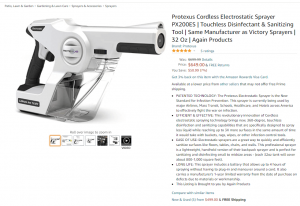 PATENTED TECHNOLOGY: The Protexus Electrostatic Sprayer is the New Standard for Infection Prevention. This sprayer is currently being used by major Airlines, Mass Transit, Schools, Healthcare, and Hotels across America to effectively fight the war on infection.
EFFICIENT & EFFECTIVE: This revolutionary innovation of Cordless electrostatic spraying technology brings new, 360-degree, touchless disinfection and sanitizing capabilities that are specifically designed to spray less liquid while reaching up to 3X more surfaces in the same amount of time it would take with buckets, rags, wipes, or other infection control tools.
EASE OF USE: Electrostatic sprayers are a great way to quickly and efficiently sanitize surfaces like floors, tables, chairs, and walls. This professional sprayer is a lightweight, handheld version of their backpack sprayer and is perfect for sanitizing and disinfecting small to midsize areas – (each 32oz tank will cover about 800-1,000 square feet).
LONG LIFE: This sprayer includes a battery that allows up to 4 hours of spraying without having to plug-in and maneuver around a cord. It also carries a manufacturer's 1-year limited warranty from the date of purchase on defects due to materials or workmanship.
This Listing is Brought to you by Again Products
RYOBI ONE+ 18V Cordless Handheld Electrostatic Sprayer Kit.