Hand Sanitizer Dispensers: What You Need to Know
Hand sanitizers provide a convenient method of cleaning hands without requiring a sink and running water. Fast-dissolving sanitizer solutions kill bacteria on users' hands, preventing the spread of disease, and then dissipate, alleviating the need for rinse water or paper products for drying hands. This enables operators to put a hand sanitizing station wherever one might be needed without having to install plumbing or other accessories.
Bacteria can be transferred between people on all types of surfaces – door handles, countertops, handrails, etc. Hand sanitizer offers a good way to keep hands free of potentially dangerous bacteria, no matter where your guests encounter it. These commercial hand sanitizer dispensers are also a great way for guests to clean their hands after using a portable restroom.
Common Questions About Hand Sanitizer Dispensers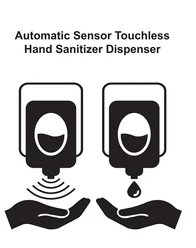 Should I get a wall- or stand-mounted hand sanitizer station?
Wall- and stand-mounted hand sanitizer dispensers both serve the same purpose: giving your guests and employees a quick way to cleanse their hands after touching a potentially contaminated surface. Wall mounted hand sanitizer dispensers are more stable and take up less space than hand sanitizer stands, and if you expect to need the hand sanitizer in one place for a long period of time, wall-mounted units are the clear choice. However, manual and automatic hand sanitizer dispenser stands have the advantage of being portable. If you have a mobile business model, a hand sanitizer dispenser stand is invaluable in providing appropriate sanitizing options regardless of where you set up your sanitizer dispenser stand.
Do I need a manual or automatic hand sanitizer dispenser?
Manual hand sanitizer dispensers are cheaper and easier to maintain than automatic dispensers, but touchless hand sanitizer dispensers prevent every guest from touching a single piece of plastic, which could spread germs. With manual dispensers, the hand sanitizer is distributed after touching the plastic, so any contaminated areas should be sanitized after the dispenser is activated. Automatic hand sanitizer dispensers also require some form of electrical power to function, which is another facet to consider before you install your sanitizer dispenser.
Where should I put a hand sanitizer dispenser?
If you're operating an establishment with portable toilets, your guests will greatly appreciate a set of hand sanitizers outside that area. Additionally, guests may want a hand cleansing option after eating, so food trucks and concessions carts can also make good use of a gel, foam, or liquid hand sanitizer dispenser. Healthcare establishments can always use extra sanitation options, as especially dangerous bacteria lurk in healthcare environments. Movie theaters, sporting arenas, and any other public venue can make use of hand sanitizer in strategic locations.
How can I refill my sanitizer dispenser?
KaTom sells several different refill packages for hand sanitizer dispensers, and all of them consist of a bag of hand sanitizer with a dispensing nozzle. The dispensing nozzle will attach to a matched dispenser and release an appropriate amount of sanitizer with every actuation of a manual dispenser's lever or when the sensor on an automatic sanitizer dispenser senses hands are below the unit. Ensure that whichever refill you purchase will work with your commercial hand sanitizer dispenser. Check our product specification page for the refill to see which type of machine it's designed to work with.